Home
Professor Robert Reich Endorses Kim Weaver for 2018!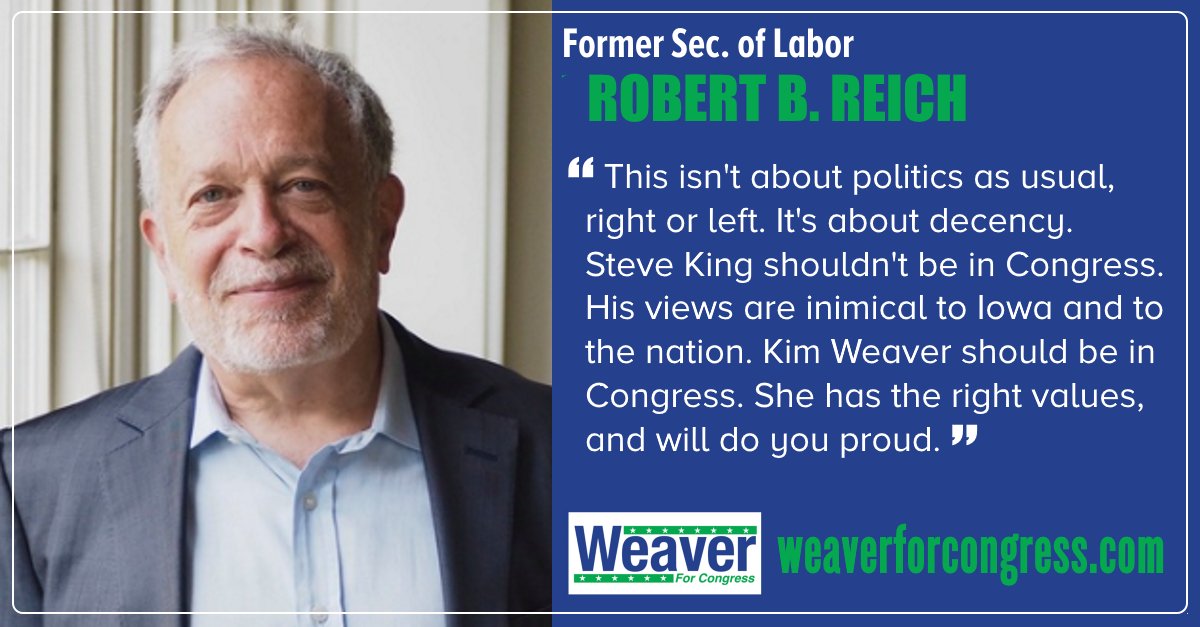 ---
About Kim

Kim Weaver is running for Congress in Iowa's 4th Congressional District as the Democratic challenger and has a proven track record of advocating for Iowans in the District.  
Native Iowan
Kim is proud to be a native Iowan.  She was born in Des Moines, graduated from Roosevelt High School and obtained her Bachelors in Communicatio
ns from Iowa State University.  After college she married and later moved to Sheldon where she raised her three children and built her career.  She appreciates the value of community and the belief in hard work that Iowans hold dear and is dedicated to taking those values to Congress.
Proud Single Mom
In 2003 Kim and her husband separated, but she remained in Sheldon with her three children. During this time, she came to truly appreciate the concern and sense of community she found in her small town.
Kim knows first hand how hard it can be to make ends meet.  When her  three children graduated from high school and went on to college, like many, they had to rely on Pell Grants, scholarships, and student loans to do so.
Kim believes that having the opportunity to obtain a quality education is critical for all children as well as for the future of our country.  Kim Weaver's children are examples of the importance of dedicated and knowledgeable teachers.  Her oldest son graduated from Massachusetts Institute of Technology (MIT) with a degree in Aerospace Engineering, her daughter is a second year medical school student at the University of Iowa, and her youngest son is majoring in Geology at Iowa State University.  
Dedicated Advocate
Kim started her career at Village Northwest in Sheldon, which is a wonderful organization that strives to provide purpose, privacy, and dignity to adults with intellectual and developmental disabilities.  As a direct care provider, she was fortunate that she could work nights and weekends, so her small children would be home with either their mom or dad.  
In 1996 she accepted a position as a Targeted Medicaid Case Manager with the Department of Human Services.  During her ten years in that position, she helped to ensure that individuals with serious mental health concerns received appropriate care and that young children with disabilities were able to remain in their family home.
In 2007 she began working for the Office of the State Long-Term Care Ombudsman as an advocate for seniors in nursing homes, assisted living programs, and residential care facilities. She oversees a large territory that includes fifteen counties and 124 care providers in Northwest Iowa. Every day she works to protect the health, safety, and rights of individuals residing in long-term care facilities, advocating for what they want and giving a voice to the seniors and their families. Kim's work has only strengthened her belief that we need to protect Social Security, expand Medicare, and make seniors a priority.
Common Sense Decision Maker
Throughout Kim's career, she has been tasked with finding common sense solutions to everyday challenges that face the people she advocates for. Sometimes the solutions were simple, other times they were not. Kim understands that our country is facing some serious issues that we desperately need to address, if we want our country to continue moving forward.
At the root of this, Kim deeply believes that "we all do better, when we all do better".  She believes that when people are given an opportunity to succeed it has a deep ripple effect in our communities that benefits each and every one of us. Supporting students, farmers, seniors, families, and people who struggle is
an investment that will bring great returns to everyone. 
A Bold Voice for Iowans
Kim believes that the people of Iowa's 4th District need and deserve a voice in Congress.  Issues that are important to our livelihood as well as our quality of life have been ignored and replaced with partisan grandstanding.  It is time to send someone to Congress who believes it is better to get things done for the people than it is to make political statement.  Kim is exactly that person.
This needs to be a team effort. Kim is an average Iowan who still works a full time job to pay her bills and support her kids in college. If you believe it is time that we all have a real voice and a dedicated advocate, then it's time to step up and join Team Weaver.
Do you like this page?